Alpine Express cheese boxes
Q: What are Alpine Express cheese boxes?
A: Alpine Express cheese boxes consist of a selection of cheese and accompaniments selected by our own Tom. All boards are designed to remove the complexity of finding and choosing cheese that match on a beautiful cheese board.
Q: What is Alpine Express Cheese Selection?
A: Alpine Express cheese selection is a selection of Swiss artisan cheese that you can order by the piece. So other than the cheese boxes, you can mix and match different cheeses and choose your size and accompaniments. It's like being at a cheese deli counter.
Q: How are these cheese boxes and cheese selection sent to me?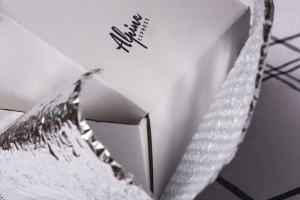 A: All cheese boxes are sent individually, meaning they are wrapped in environmentally friendlier, insulated cardboard boxes along and ice packs to keep the content chilled during the transport. Unless agreed/communicated otherwise the shipping takes place with Australia Post Express delivery. Please check that your delivery postcode is part of this network. All boxes are adequately packed and insulated to meet the expected delivery timeframes for most national areas except rural postcodes through our shipping providers (please contact us for rural areas prior to ordering, we can pack more ice and insulation at an additional cost). In case of a delayed delivery due to Australia Post's fault or external ('acts of god' cases), we cannot be taken responsible for the quality of the cheese. However, in such a case, please contact us and I'm sure we will find a solution together.
Q: When is cheese sent out?
A: All orders are collated and sent out on Mondays unless notified otherwise (e.g. during public holidays, etc.). The order cut off time is 9am Sydney time on the day of dispatch. All orders will receive a tracking code which is shared with you (it can also looked up in your 'my account section' of our website providing you are a registered customer).
Q: What is the shelf life of the cheese?
A: All cheese supplied come with best before or use by dates and are generally vacuum packed for ease of transport and handling. They will have 1 to 2 months of shelf life. If you choose to have your cheese packed in cheese paper, the cheese will be dated with 2 to 3 weeks shelf life depending on type of cheese. Certain soft, fresh or blue cheese will have shorter dates but this will be stated on the product description. Generally dates on cheese are for guidance purposes only. Many cheeses can be enjoyed well after the printed date. If you are unsure, simply ask us.
Q: Can I get more information about the cheese supplied?
A: Of course, every cheese box order will be getting a detailed information sheet about the cheese supplied. Cheese selection cheese only comes with general information material, however each cheese is described fully on the product page. And if that's still not enough, just drop us a line with your question and we'll be happy to help.
Q: Can you guarantee supply?
A: Unfortunately not. Every now and then we will have to make substitutes for some of the cheese mentioned in the boxes description. We do, however, make sure you get an equal or better substitute. We will also inform you ahead of the shipment, so that you can let us know if you changed your mind.
Q: Can I change some of the cheese in the curated cheese box?
A: Unfortunately not, but please do let us know what combinations you would like to see and we'll take those into account when we design future cheese boxes. If you like individual and/or mixed boxes of selected cheese, then our 'cheese selection' area is the right spot for you.
Q: I've received my cheese but some pieces are slightly underweight. Is that right?
A: Our terms & conditions specify that we can send you underweight cheese by up to 10% of the ordered weight. However, it is never our aim to send you less than what you ordered. If you ordered multiple pieces, it's most likely the other pieces weigh more than the ordered weight, giving you overall as much or more than you've ordered. However, should you find that's not the case, please contact us and we will – of course – refund you for the weight difference.
Q: What if I'm not happy with the cheese I receive
A: We strive to ship you cheese of superior quality every time. Should you, however, not be happy with what you received, please contact us and we're sure we can sort it out.
Q: What if I have a larger event or function and would like to purchase large quantities?
A: We would be happy to help you out – please contact us for a consultation.
Q: I live in Brisbane and would like to collect the cheese. Is that possible?
A: Unfortunately this is no longer possible as we've moved our prep kitchen to another area where no pick-up option is available.
Q: What postcodes are included in your 'Brisbane Metro Reduced Rate' postage?
A: (see list of postcodes below)
4000…4004
9000…9299
4005…4209
9400…9596
4210…4299
9726
9728
9729
4210…4305
4500…4510
4520