Description
Raclette parties are the new old thing. In Switzerland raclette is a staple dish mostly consumed in colder months. It is now convincing more and more Australians as well especially since both the equipment as well as original, high end raclette cheese is available now.
Memorable melted cheese dinner parties with family and friends are easy with this 8 Person Raclette Grill with cast aluminium top plate from Swissmar. Let everyone's culinary creativity shine with this fun and versatile table top appliance fully equipped with Australian power plug.
Swissmar has developed a Raclette party grill, with room for 8 people to cook. The Swissmar Valais 8 person Raclette Party Grill is heated by a 1500 watt element which simultaneously cooks the food on the reversible top grill, and melts cheese on the trays below. The grill is incredibly simple to use…and very quick to clean. Getting started is as easy as taking it out of the box and plugging it in. With this unique, versatile product you'll have delicious plates of food for you and your guests to enjoy before you know it!
Size: 42cm x 24.4cm x 14.3cm
Colour: Red or Silver
Get 10% off our raclette cheese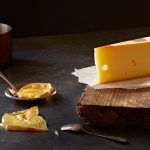 With every purchase of a raclette machine you get 10% off our full range of raclette cheese.
Conditions: Purchase has to be made separately after the completed purchase of the raclette machine. Valid for one purchase only. No minimum, no maximum spend. Subject to availability. Cannot be combined with any other offer.