Description
Gruyère Alpage AOP is also a denomination protected by the AOP (PDO) specifications. It is only made in the summer, from mid-May to around mid-October. Cows go up to mountain pasture and graze on lush and varied grass. The milk they produce is rich in flavor, which is passed on to the cheese. Gruyère Alpage AOP is exclusively pressed in cloth. The wheel of cheese is slightly smaller, around 25 to 30 kilos. At the beginning of autumn, the Alpine herdsmen and their herds come back down from the mountains. This process of bringing cattle down from the mountains for winter is called the "désalpe", and it is fittingly celebrated.
This particular Gruyère Alpage AOP comes from a small alpine dairy on 1478m above sea level in the Fribourg alps. 27 year old cheese maker Christophe has learnt his trade from his father who before him was going up on the alp every summer to make this raw milk delicacy. Christoph is now continuing the family tradition, milking his herd of cows twice a day to make 2 wheels of Gruyère Alpage AOP cooked over the wooden fire, every day during the summer months.
This vintage is from June 2019, it's rare and we're the only Australian importer of it.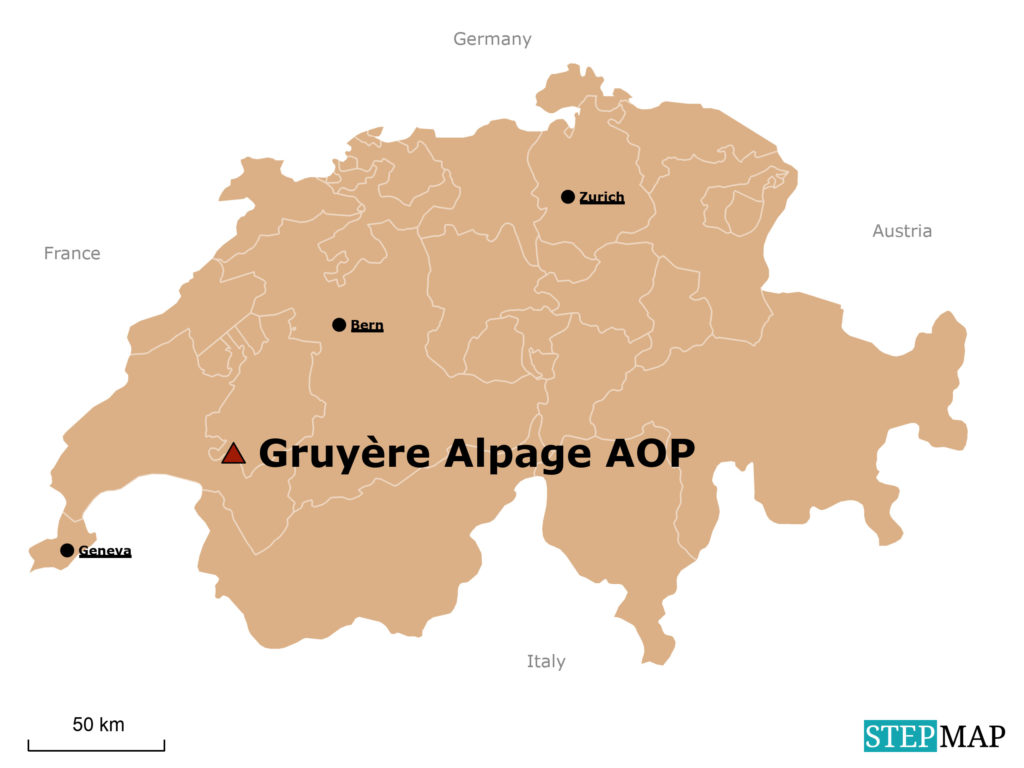 How we wrap your cheese
Freshness of your cheese is important to us. That's why – unless noted differently in the description – we package all of our cheese in vacuum bags to help minimize travel impacts. However, we understand that some of you prefer cheese being wrapped in cheese wrap. This option is available to you for a small fee (it takes more time to package the cheese this way, that's why we charge you a little bit more). Unless specifically noted in the description, all cheese will generally have a best before date of at least 14 days, vacuum packed cheese generally about 2 months. Please note that with cheese this is often only a guidance date and does not necessarily mean the cheese will be of lesser quality beyond that date. In fact many soft(er) cheeses are best kept close to or until after that date for maximum ripeness.
How the cheese gets to you
All Alpine Express cheese are shipped in environmentally friendlier, insulated cardboard boxes. The cheese is bolstered with recycled packing paper & kept cold with food grade ice gel pack(s). It is shipped the fastest possible service, usually Australia Post Express. See Australia Post's Express Delivery Estimator (origin is 'Brisbane Metro'). From time to time we may choose a different shipping provider depending on speed of service, costs and other factors.
Unless noted otherwise, all cheese boxes are sent on Mondays with an order cut-off time at 9am (Sydney time) that day. You will get a tracking number to follow your parcel's progress.
Do you have any other questions? Check our FAQs for additional information or write to us via our contact form.