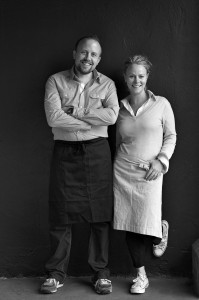 The Red Cow is Australia's specialist artisan Swiss cheese importer bringing exclusive brands such as the Sélection Rolf Beeler range of artisan Swiss cheese as well as other high quality, artisan Swiss cheese to Australia.
Tom and Sarah Merkli founded The Red Cow in late 2011 and the first commercial shipment arrived in April 2012 marking the start of selling The Red Cow's artisan Swiss cheese to the Australian market.
Tom – mountain climber, high seas sailor, Swiss native – believes, like most people from Switzerland, that cheese is much more than just food. Growing up, his mother had a sweet spot for cheese, making sure the family never ran out. In his teens, Tom's father introduced him to the family's cheese supplier, Maître Fromager & affineur Rolf Beeler. Rolf speaks of cheese like a grand romance, and this infectious fancy was not lost on Tom, whose love for cheese continued to grow over the years.
When Tom moved to Australia in 2010 there were only a handful of artisan European cheeses available in Australia, most of them originating from France and Italy, not Switzerland. And thus precipitated Tom's light bulb moment to give Australian's the opportunity to savour the uniqueness of genuine artisan raw milk Swiss cheese.
Rolf Beeler is referred to as 'The Pope of Cheese' in Switzerland and has over 30 years of experience choosing, aging and purveying artisan Swiss cheese. Rolf monitors the cheese production from start to finish, beginning with the health of the cows and the grass they consume and ending with the time spent maturing each cheese. Most of the cheeses in the Selection Rolf Beeler collection are made from raw milk.
See also Rolf Beeler on Wikipedia; Rolf Beeler's homepage.
The Red Cow milestones
2011
Incorporation of The Red Cow (Australia) Pty Ltd
2012
Signing of the first distributor for Melbourne and commencement of commercial imports
Participation at Taste of Melbourne
2013
Extension of cheese range
Signing of second distributor in Melbourne
Participation at Melbourne's Food & Wine Festival and Taste of Melbourne
Private cheese events for high-profile, Swiss corporate client
2014
Expansion into Western Australia
Signing of distributor for Geelong, Bellarine and Surf Coast
Signing of distributor for New South Wales and South Australia
Launch of the Tartana Bomba rice, endorsed by Rolf Beeler
Participation at the French Festival in South Yarra
2015
Company relocation to Brisbane
Expansion into Queensland with first retailer in West End/Brisbane
2016
Further expansion in Queensland with shops stocking The Red Cow products across Brisbane
2018
Expansion of online shop with fixed, weekly dispatches
Participation at Swiss Festival in Melbourne
2019
Introduction of Switzerland's oldest brand product, Sap Sago (Zigerstöckli)